Disaster Relief
Need help to save your belongings due to flooding? We can provide rapid
Flood Relief with our Rotherham based Removals & Storage services.
Instant Online Quote
Contact Us
Flood Relief Removals & Storage
In times of need Ball and Waite, Specialised Movers Group, Taylors and Housleys all come together to offer compassion following disasters such as flood or fire.
We are here to help; we offer professionally trained staff that can take your effects to one of our 3 premises in Sheffield, Rotherham and Barnsley offering 1200 individual indoor storage units.
We bring these units to your home in our purpose-built vehicles.
Provide a written inventory.
Keep photographic evidence of all your valued possessions.
Our service is compassionate and customer-focused.
We are approved members of the British Association of Removers BAR.
Work within the guidelines of the Trading Standards.
We won't ask for any payments upfront and will deal directly with your insurers.
Ball and Waite have over 100 years of experience in house removals. All of our staff are fully trained in house removal techniques so when it comes to your home removal your precious effects are in safe hands with us.
Storage Facilities
Indoor containerised storage facilities.
Conventional warehousing
Document storage facilities in containers or racking
Rolling rack facilities and locked room storage
Our storage containers are purpose built and ideal for storing household furniture and cartons, office furniture, files/documents, electrical equipment and machinery. The warehouse is maintained on a daily basis, kept at an ambient temperature to ensure items are protected and has annual FRAs completed (Fire Risk Assessments) which are passed with flying colours.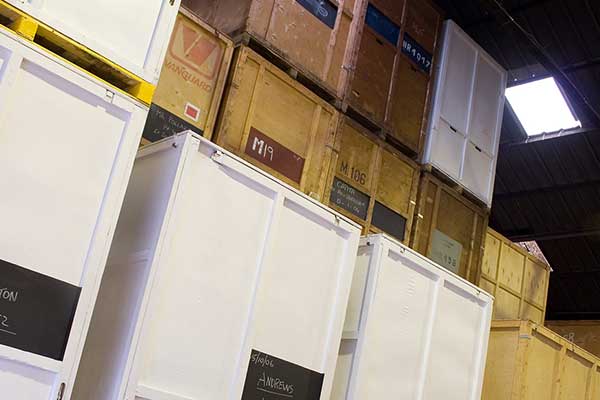 Collection and delivery process
The storage containers are placed into our vehicles and brought to your home/site.
Your effects are loaded directly into the containers, each item being wrapped and secured.
All effects are also inventoried (including a condition report).
The containers are then sealed and returned to our storage centre where they are placed safely into their bays.
When you need your effects returned, the containers are brought to your site for delivery to commence.
This method reduces double-handling and therefore risk. It also keep your effects secure in sealed containers for the duration of the transportation and storage.
Flood Relief Removals & Storage  – Rotherham – Doncaster – Barnsley – Wakefield – Huddersfield.