Trust our Experience
Ball and Waite have over 100 years of experience in house removals. All of our staff are fully trained in house removal techniques so when it comes to your home removal your precious effects are in safe hands with us.
Free quotation with no obligation!
We are interested in being of help – listening to your house removals requirements and providing advice, rather than giving you the hard sell.
Choosing a reputable company that's part of a Trade Association
Obtain house removals quotations from trade registered companies.
Although we'd like you only use our company, we recommend that you obtain 2-3 quotations.
Ensure that the house removals company has sent a surveyor to your home. This avoids any ambiguity and places the responsibility on the mover to get your move right.
Check that the quotation is a fixed price with no hidden extras!
Get your quotes in writing.
Ensure that the house removals service includes insurance or liability cover.
Get reassurances that the house removals staff are experienced, trained and directly employed. It makes a difference!
Ball & Waite Removals and Storage are members of The British Association of Removers (BAR). BAR is the recognised trade association in the removals sector, promoting professional excellence in the Industry for over 100 years. Their role is to set professional standards for the removals industry and ensure that those standards are maintained. As a Member we are audited/inspected every year to ensure that we remain compliant with the Membership criteria and the CTSI Code of Practice. Being a Member, we are also covered by the Advanced Payment Guarantee (APG) scheme meaning if anything happened to our company at any point in your move, you, the customer are fully covered.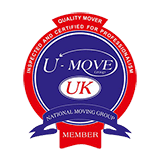 Ball & Waite Removals and Storage are members of the U-Moves Group. Whatever your decision is when selecting a home mover, we strongly recommend you look at U-Move Members. The U-Moves Group has promoted professional excellence in the removals industry. By choosing a U-Move Member you will ensure your move goes smoothly with the added peace of mind that comes from using a reputable, professional and safe remover, and in the unlikely event that something goes wrong, you've got someone to turn to. 'U-Moves' has a direct contact to ensure your are totally satisfied with the removal service you receive.
House Removals – Rotherham – Doncaster – Barnsley – Wakefield – Huddersfield.